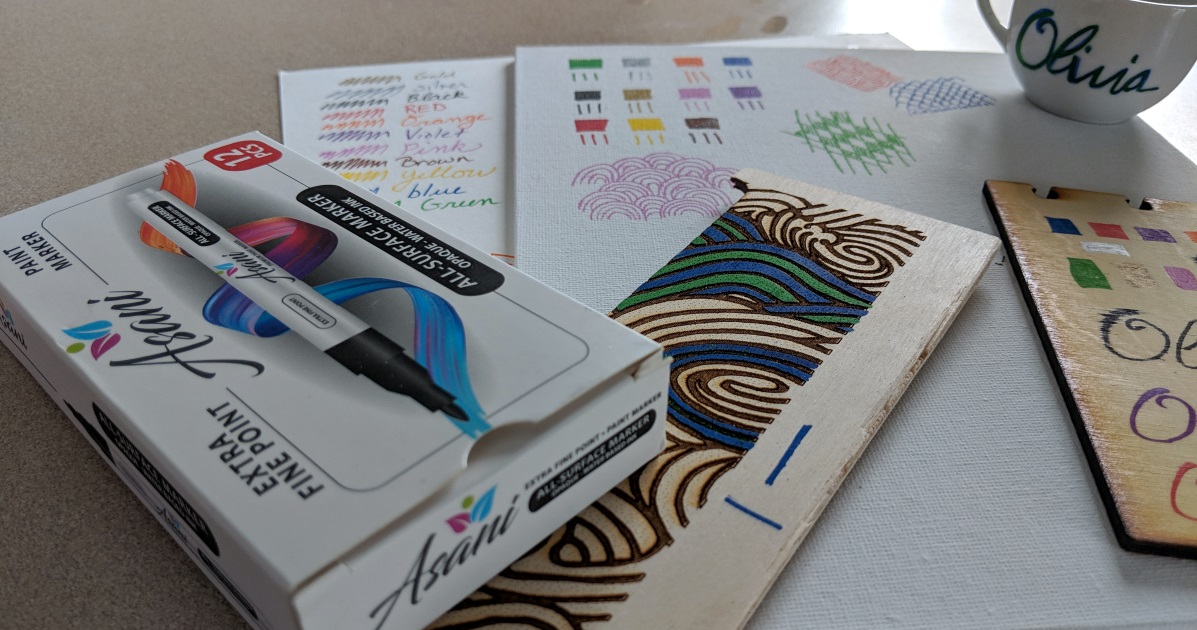 I recently had the opportunity to test out Asani paint pens. I had high hopes for these paint pens and for the most part they lived up to those hopes. What I have done is given an over all review and then taken the description from their product page on Amazon and added my testing and thoughts on the pens. I hope this helps anyone who is thinking about purchasing these pens!
I would highly recommend these pens to anyone who is working on a completely smooth surface. The tip of the pen has no give and is very rigid, so any type of texture causes the paint pens to splatter the area. The flow on the pens is very nice though before each use you do need to shake them well and test them on scrap material. I found that if I did not test them some of the colors would have excess ink flow on my first couple of lines and so my lines were not uniform. The colors are opaque and vibrant, and I like the selection. I would have purchased these for the gold and silver alone.
What I am going to do now is breakdown what they state on their description on Amazon. Each bullet points is part of the description followed by my thoughts.
MULTI-SURFACE GOODNESS: Experience creativity without limitations. These acrylic paint markers work on everything from porcelain, ceramic, glass, treated wood,leather, canvas, fabric, metal, to plastic. They're perfect for creating kindness rocks, scrap booking, or customizing mugs.
I tested these pens on canvas board, rocks,ceramic cups, leather, cloth, and wood. I cannot give comment for porcelain, metal,plastic and glass.
Canvas: Canvas is textured and as such causes these pens to splatter a tiny amount. If you are using smooth boards this will not be an issue. You can see by the images that the splatter is minimal. The colors are opaque and didn't need two coats. If you are using the pens to outline objects I would go very slow to minimize the splatter. I would not recommend using them to fill in space as if you are using a regular marker as this intensifies the splatter. Remember the tip is very rigid and has no give so running that across textures will create splatter. I do not plan on using these on my canvases for anything other then outlining or some small fine details.The pens to do create a consistent line.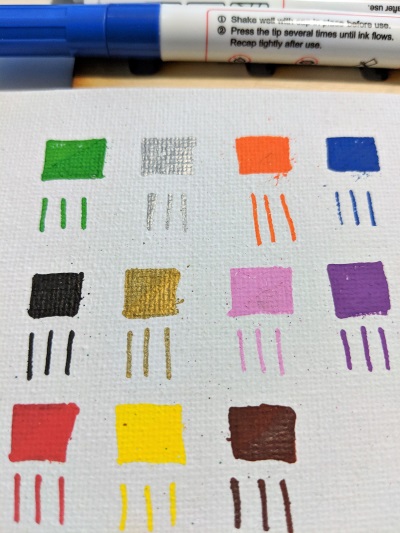 Rock: If your rock is smooth these will work well. The fine line that they produce is great for small details. Once again you want to run a couple test lines on scrap material before working on your project, having to much paint come out and ruining your project is never fun. I found that the light colors did not cover and needed more than one coat.This might be different if the rock you are painting on is light in color.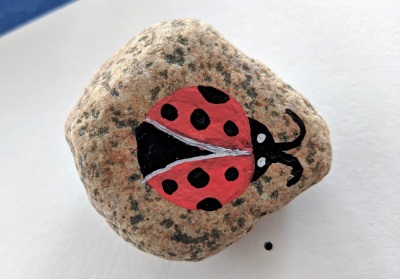 Wood: I tested this on craft wood that I got from my local craft store. I tested it on laser engraved wood, untreated wood, and treated wood (stained). I will say that the markers work better on the treated wood. Of course, if you look at the description of materials it states it works on treated wood. I wanted to try untreated wood though just to get a good comparison. As you can see in the image the untreated wood tends to spread a bit, by treating your wood this is reduced dramatically though at times this still happened. I would highly suggest always testing on a surface that is not your final project. The colors showed up beautifully on the wood. I did add a second layer of paint in my test squares and there really was not that much difference in the color. I would also recommend that if you need to go against the grain of the wood that you go very slowly as any bumps causes the pen to splatter.
Ceramic Cup: This was my first-time using paint pens on a ceramic cup. The darker colors worked better than the lighter colors. You are easily able to scrape off the paint. I painted a small cup and even 3 days later was able to use my nail to scrape off paint. The smooth surface of the cup works well with the pens and there was no splatter from the pens.I tired to use one color on top of another but the pen picks up the color underneath. I just cleaned off the tip of the pen with a piece of paper and tried to not go over colors excessively.
Leather: No issues with paint splatter on the leather. The paint went on very smoothly and showed up very well. White and yellow took more then one coat for it cover properly but my leather was dark. The paint dried very quickly and I enjoyed working on this surface with these pens.
Cloth: Well these paints did work on cloth. Though I think if you are wanting to use these on fabric you want a very tight weave. I used a cotton cloth and the paints bleed quite a bit into the fabric.
QUALITY YOU'LL LOVE: Unlike other paint pens with ink that easily fades or colors that quickly get washed out, we've filled each one of ours with 3 ml of premium Italian ink. Vivid, water-resistant, fade-resistant and quick-drying, the premium ink ensure your beautiful creations get to last for longer.
These pens are water resistant to a small degree. I found that though these pens do resist water for a little bit any type of rubbing will take the paint off or cause it to smear. I used a paintbrush on my watercolor paper and just brushed a couple of times over the area that I painted, and it started to smear as you can see in the image below. I ran the rock under water and gently rubbed over it and the paint started to come up. All these projects had been sitting for at least 3 days before I put water on them to test this. I had wanted to use these with my watercolor paintings, but I will have to use them only after I am done adding watercolors. They are fast drying, and I loved that I did not have to wait a long time before layering the colors on top of each other. As for fade resistant I can not comment on as I will need more time to test this one.
RAINBOW OF COLOR: Whatever the project, this rock painting markers kit has the color to bring it to life. Every set of 12 includes a black, white, yellow, blue, green,red, pink, gold, silver, brown, orange, and violet paint pen. Looking for a great gift for that arts and crafts loving someone? You've found it
I love the range of colors. As you can see by the photo I have attached the colors are very true.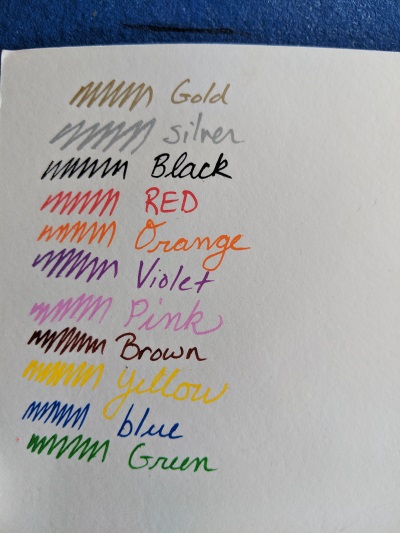 FREEDOM TO CREATE: Whether you want to color in or draw outlines, do some detail work or flex your calligraphy skills, the extra-fine 0.7 mm nylon tips help you do so beautifully. You'll love the consistent flow of the water-based ink that complements the nib to produce striking works of art.
These pens do not have a constant flow. The flow is really extended but I found that I still needed to press on the tip if I had used them for a long time. I did some simple zentangle work to see how long they lasted without having to press the tip for flow. These samples stopped when I needed to press the tip again. You can see they do last quite a bit and did vary from color to color. Over all they were better than other paint pens that I have worked with in the past. I really appreciated that the line is consistent and steady for quite a while.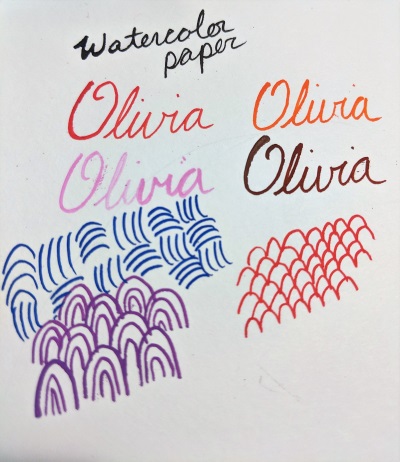 USE WITH CONFIDENCE: No toxins. No odors. Our brush pens conform to ASTM D-4236 safety standards. This means you can rest easy as kids channel their creativity or as you crush that project. Go ahead, make the world your canvas with multi-surface paint pens that never compromise on quality.
These truly did not have any odor when I was working with them. The box though does state not for children. I would personally not have an issue with either my 7 or 9-year-old using these pens.
Overall these paint pens are a better paint pen then others I have used. I would buy them again to use on projects. I would love to hear your thoughts or to answer any other questions you may have!
Thanks for reading!
Heather